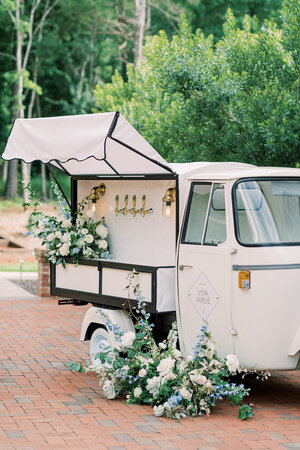 Planning with a Planner: Booking Vendors
I'm back with more planning details from my own wedding planning! I definitely took a break to enjoy the holidays and I've been a busy bee for the past few months catching up. I totally dragged my feet and admittedly broke my own rules for the order of booking vendors. So I'm here to update you on how it should be done and how I went about it!
Venue Booked, Now What?
I booked the venue by the end of August then took some time to explore exactly what I wanted. I immediately made a brain dump list of every detail that I wanted to be included in the wedding. As I thought of anything, I'd add it to the list. You have to dream big then come down to reality once you get quotes back and update your budget. I used our budget template we provide for all of our clients on our Client Access page and outlined estimated costs. I had a chat with my family and we were good to go to start booking. If you need preliminary budgeting advice, check out this blog!
My next step was to start reaching out to vendors and making decisions. I'm a researcher to my core and have to feel like I fully explored my options before I feel confident committing to a vendor. Don't even ask Aaron how long it took me to buy a car. I found that there were a core group of friends and family who kept asking how planning was going and what I had done. I'm sure every bride has those few friends who push you and I appreciated it because it's so much easier to focus on my clients than to make decisions for myself. It was time to jump in and tackle my list.
You Should Book Your Photographer
The most important on the list of booking vendors is the photographer. Venues, photographers and planners have limited availability compared to caterers, rental companies, and hair and makeup companies that have bigger teams. In photography you have to first determine the style you want. Is it light + bright, color saturated, or dark + moody? Most photographers will fall into one category or a combination of two. We always ask our clients which style they prefer before sending over a customized preferred vendors list. Having our whole list to choose from, I knew I wanted a combination of color saturated and dark + moody.
However, this is the moment I didn't take my own advice. Oops! I have so many photographer friends and knew I was going to be picky about style and ability to shoot the details and not hurting anyone's feelings. With all of this said, I procrastinated hard, but knew I needed to do something so I went full-force booking everything else. Doesn't everyone move on to the easy stuff when they don't know what to do about the hard stuff? No? Just me? Ok, cool.
But First, Champagne!
Anyone who knows me, knows that I love champagne. The easiest vendor for me to book was Vita Mielie, the cutest Italian truck transformed to champagne taps. Yes, a champagne truck was the first vendor I booked and yes, I obviously have my priorities straight. Although our venue comes with a bar, I wanted the interactive feel of the champagne tap to really create an experience for our guests. I factored this into the budget early on since I knew this was a detail I wanted included.
Booking Vendors
Being in the industry for so many years now, I absolutely knew who I wanted for my music. Kevin Miso is a friend and extremely talented Hawaiian Jack Johnson musician who does the most incredible mash ups while also being an epic DJ. He brings the best of both worlds when it comes to music and also is a fellow Long Beach native who went to my high school. He's done countless friends' weddings and events with me and it was an easy + obvious choice. He was chatting with his wife about a trip to North Carolina when my email popped into his inbox. Of course that's fate!
I started doing catering research and reached out for quotes, but haven't yet secured it. Aaron's main priority is food so we need to make sure we get this right for him and include details that are unique to our preferences. I love it when couples customize each decision so that the wedding feels like an experience of who they are as a couple together. So I tabled this decision and kept going on the other things.
I knew I wanted to work with my dear florist friend Kelly of Color Fields. She's not only a rad designer, but also a flower farmer. Kelly has the coolest varieties and colors of the typical flowers we're accustomed to. I emailed her to make sure she was free and we're locked in but haven't started the designing process with her quite yet.
Design Details
After these vendors were booked, I took a break to enjoy the holidays. Tatiana and I started working on  the moodboard, the first step to our design process. It encompasses all of the desert boho modern vibes I'm going for with a gorgeous bright fall palette. We opened my Wedding Design Plan slideshow and began dropping in our favorite images from my Pinterest board. These slideshows are typically about 40 slides for our Design + Coordination and Full Planning clients and go through all the details of the wedding with links to rental company websites or other websites for purchasing.  These are our absolute FAVORITE things to do for clients but are definitely a labor of love. We knew this would take us a while so we scheduled a few phone calls to chip away at it little by little and would drop in more ideas as inspiration struck. To date, this is probably halfway done, but we're getting closer to wrapping it up.
I'm getting there slowly but surely and doing it my own way to be sure of my decisions. The one thing still keeping me going in the midst of wedding season picking back up is that so many vendors are already booked. With COVID postponements, we've definitely seen more couples planning and booking vendors earlier than usual. If you're procrastinating like me, let this be a warning that you need to secure vendors with limited availability stat!
Stay tuned as I continue through the process. I promise I'm picking up my pace taking you through the details of my planning!
XO,
Chelsea